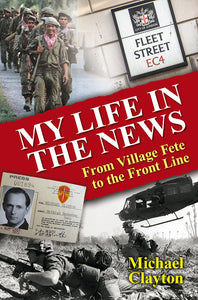 My Life in the News
by Michael Clayton
Hardback - £20.00
EPUB - £6.99


£6.99
Tax included.
Shipping
calculated at checkout.
---
---
Journalist and Editor Michael Clayton worked his way up from local newspapers to BBC war correspondent, with radio and magazine experience inbetween. 
From the sharp end of the action in Vietnam, to the violence of the Troubles in Belfast and the tragedy of the East Pakistan revolt, Clayton  is well placed to compare the varying challenges of journalism on different media platforms. 
The rivalry between the BBC and ITV, the bravery of war cameramen, dealing on assignment with corrupt officials, the TV preference for close-to-the action film as opposed to insightful reports of the effects of conflict: Clayton has experienced it all over a 70-year career.
His insights into the ethos of the BBC, the colourful characters he reported and filmed alongside, and his resulting views of humanity, war and crime – Clayton's autobiography in journalism is honest, wry and full of insight. 
Availability:

Illustrations:

Pages:
224
Published:
Sep 08, 2022
ISBN:
9781913159566
About the Author:
Michael Clayton is the author of over 20 books on equestrianism and hunting. He was the Editor of Horse & Hound for over two decades, and gained a wide following for his weekly column Foxford's Hunting Diary which entailed hunting with over 200 packs of hounds throughout the British Isles and in North America.
He was formerly an international TV and radio reporter for the BBC, including war reporting in Vietnam, Cambodia and the Middle East.
He is now retired and lives in Leicestershire with his wife Marilyn.
---
We Also Recommend