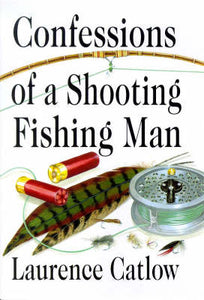 Confessions of a Shooting Fishing Man
by Laurence Catlow
Paperback - £16.99
EPUB - £6.99


£6.99
Tax included.
Shipping
calculated at checkout.
---
---
When Laurence Catlow, a classics master at a Cumbrian boarding school, sees a beautiful pheasant in flight, he wants to reach for his gun.
In this diary of his sporting year, he asks himself, between days on the local rivers and shoots, why this is so.
His answers are surprising, controversial and convincing. They provide an articulate response to the anti-fieldsports arguments, and he presents them in an entertaining, frank and amusing manner.
Throughout 1995, Laurence's diary records his hopes of buying some precipitous shooting ground in the Pennines, his fishing days on the Eden, Wharfe and other rivers, the arrival of a second gundog and days spent together on shoots. All this activity is interspersed with Laurence's quest for his true motives in killing what he most loves. He looks at foxhunting, vegetarianism, man as a hunter, man as created in God's image and man as a creature doomed, himself, to die.
Nearly 25 years later, this diary remains highly topical, thought-provoking and original. yet its tone is also very human and it comes from the pen of a true nature-lover. 
Availability:

Illustrations:

Pages:
266
Published:
Oct 15, 1999
ISBN:
9781906122744
About the Author:
Laurence Catlow writes about shooting and fishing for Trout & Salmon and Shooting Times. He is author of: Confessions of a Shooting, Fishing Man, Once a Flyfisher, Private Thoughts from a Small Shoot, That Strange Alchemy and The Healing Stream.
Laurence Catlow has a doctorate in Classics from Cambridge University and was head of Classics at Sedbergh School in Cumbria until his retirement. His interests include fishing, shooting, walking, red wine, religion and literature.

He lives in Brough, Cumbria.

---
We Also Recommend