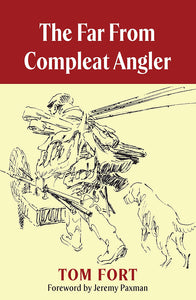 The Far from Compleat Angler
by Tom Fort
Paperback - £14.99
EPUB - £6.99


£14.99
Tax included.
Shipping
calculated at checkout.
---
---
Tom Fort, former angling correspondent for the Financial Times, is one of the most incisive and funny fishing writers in Britain today.
This sparkling collection of his writings finds Tom at Ceausescu's bear-hunting lodge in Romania, at a fishing auction in the Home Counties, being thwarted by a bunch of hard-mouthed Brazilian dourado, on a press freebie in Scotland and in a terrible state on the Kennet - not to mention conducting a fantasy celebrity interview with Isaak Walton himself.
Whether fishing in some exotic far-flung location, or simply leaning over the parapet of an English bridge gazing at the stream below, Tom Fort always manages in his stylish and witty way to pinpoint something important with which all anglers can identify.
Availability:

Illustrations:
19 Black & white illustrations
Pages:
224
Published:
Dec 15, 2020
ISBN:
9781913159313
About the Author:
Tom Fort grew up in Berkshire and was educated at Eton and Oxford. After working as a reporter on a local newspaper he joined BBC Radio News, where for many years he pursued a career 'unusual for its lack of distinction.'
He was the Financial Times' angling correspondent for sixteen years and has written for The Daily Telegraph and The Guardian. He is a also contributor to The Field, Trout & Salmon, Waterlog, Shooting Times and other magazines. He is the author of The Far from Compleat Angler (Merlin Unwin Books); and a social history of lawns and lawnmowers, The Grass is Greener and a history of eels and eel fishing, The Book of Eels.
He is also co-author of Bright Waters, a celebration of Irish Game, Coarse and Sea Angling (Merlin Unwin Books) with Niall Fallon.
He has edited a number of fishing books, including The Best of Zane Grey, and Sheringham's An Angler For All Seasons.
Tom's other enthusiasms, in addition to fishing, include playing and watching cricket and rugby union. He is married to Helen, has three children and continues to regard himself as a Berkshire man, even though he now lives just across the border in south Oxfordshire.
---
We Also Recommend