From the archives: The Lady review - The Ride of My Life by Michael Clayton
Posted by Lydia Unwin on
From the archives: The Lady - BOOK OF THE WEEK

The Ride Of My Life: Memoirs Of A Sporting editor by Michael Clayton (£20)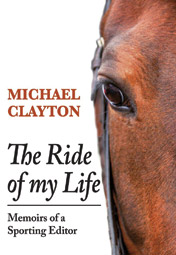 A memorable run

Michael Clayton was editor of Horse & Hound from 1973 to 1996, and a very good editor he was, too. At an early age, he caught the horse bug and, as he states in this superb memoir, 'There is no more addictive recreation than riding and owning horses and ponies.'

But he did not come from an equestrian family: he was brought up in a two-bedroom bungalow in Bournemouth. Before Horse & Hound, he co-presented Radio 4's Today programme, reported on the Vietnam War and was deputy news editor of London's Evening News. Throughout, his great passion was foxhunting: every spare moment would see him dashing from Fleet Street to the shires.

Talk about the ideal job: as editor of Horse & Hound he was paid to go hunting and write up his hunting diary. Along the way we learn about his friendships with horse-world luminaries, including Prince Charles. Clayton also partook in carriage driving with Prince Philip and was entertained by The Queen and The Queen Mother at equestrian events. Not bad for a boy from a Bournemouth bungalow. An essential book for anyone with an interest in horses, but a lovely read for the non-equestrian too, as Clayton writes so well and is not afraid to criticise where he sees fault.
---
Share this post
---
---
---
0 comment