News — Green Cleaning
Posted by Lydia Unwin on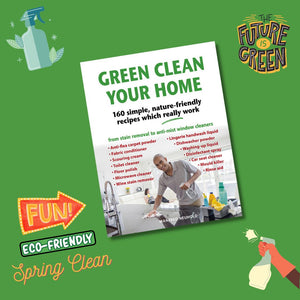 160 simple, nature-friendly recipes which really work in Green Clean Your Home. This is the only book you need to Spring Clean your home in time for the Easter holidays. 
The book covers eco-friendly products listed for every room in the house. The instructions are clear and fun to make using your own raw ingredients - reduce plastic waste and use fewer harsh chemicals. 
Feel good when you Spring Clean! Try something new today, available from your local bookshop or visit Merlin Unwin Books website. 
Posted by Lydia Unwin on
How to Green Clean Your Home without using harsh chemicals.  This book showcases 160 easy, illustrated recipes to inspire you to make all your own basic cleaning products. They are all eco-friendly and can help you reduce your plastic consumption. As shown in the recent double page spread of Prima Magazine, the book was publicised alongside a number of green cleaning tips and products from the book.