News — Horseracing
Posted by Lydia Unwin on
Crowds will be gathering at Ascot Races, a highlight of the racing calendar and a place that has seen many a sporting mishap, celebration and curiosity...
You can read all about them in Ashforth's Curiosities of Horseracing... from the theft of the Ascot Gold Cup in 1907, to the bizarre incident involving Ile De Chypre in 1988, and the regular appearances of the unmissable Gertrude Shilling and of Linda Lovelace in 1974.
Posted by Lydia Unwin on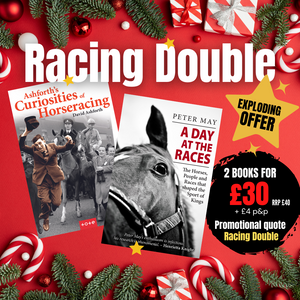 Don't be pipped to the post... this is a limited time offer to buy two superb books.
Enjoy a well-researched history of the sport and a collection of curiosities that make it fascinating and unique.
To place the order call us on 01584 877456 and quote promo code: RACING DOUBLE to save £10.
Offer ends midnight 29/11/22