News — Shooting
Posted by Lydia Unwin on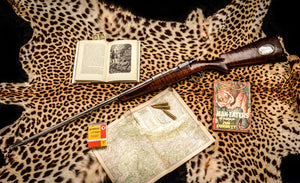 The rifle used by Jim Corbett, owned by Rigby & Co. It was a .275 Mauser presented to him in 1907 for killing the Champawat man-eater. A fascinating memento of an extraordinary man, as documented in
Hero of Kumaon
by Duff Hart-Davis.
Posted by Lydia Unwin on
Back by popular demand in paperback: Confessions of a Shooting Fishing Man
Throughout 1995, Laurence's diary records his hopes of buying some precipitous shooting ground in the Pennines, his fishing days on the Eden, Wharfe and other rivers, the arrival of a second gundog and days spent together on shoots. All this activity is interspersed with Laurence's quest for his true motives in killing what he most loves. He looks at foxhunting, vegetarianism, man as a hunter, man as created in God's image and man as a creature doomed, himself, to die.
This diary remains highly topical, thought-provoking and original. Its tone is also very human and it comes from the pen of a true nature-lover.
Posted by Lydia Unwin on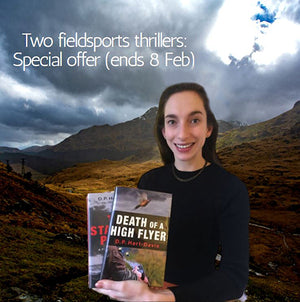 Discover our thrillers: 
Buy 𝗗𝗲𝗮𝘁𝗵 𝗼𝗳 𝗮 𝗛𝗶𝗴𝗵 𝗙𝗹𝘆𝗲𝗿, and get 𝗧𝗵𝗲 𝗦𝘁𝗮𝗹𝗸𝗶𝗻𝗴 𝗣𝗮𝗿𝘁𝘆 at half price when you ring Merlin Unwin Books on 01584 877456 (office hours) and mention the offer, which ends 8 February.
Only £22.50 (plus p&p) for two handsome hardbacks.