Enjoy wildlife closer to home says author Steve Wright, who's book is out now: Wild Enthusiasm, A British Safari
Posted by Lydia Unwin on
In his new book, Wild Enthusiasm, Isle of Man author Steve Wright suggests that you don't need to go all the way to Africa or India to enjoy a safari.
Steve, who works for Tynwald, the Isle of Man Parliament, explains: 'There are many advantages to choosing a destination closer to home for a wildlife adventure. Firstly, it'll probably be less expensive, require fewer flights (with the inevitable airport delays and cancellations) and have a lower carbon footprint.
'Over the last 14 years, I've explored all corners of the British Isles and witnessed spectacular wildlife sightings, including snakes, dolphins, whales, eagles and otters. Anyone can try to replicate my adventures, which involves visiting the countryside and nature reserves to discover local specialties. I provide lots of tips and advice - you can learn from my successes - and try to avoid my mistakes.
'My favourite locations are usually remote islands. I love gazing out to the sea from the fringes of human civilisation. It's even better at beautiful locations such as Orkney, Shetland and the Isle of Man.'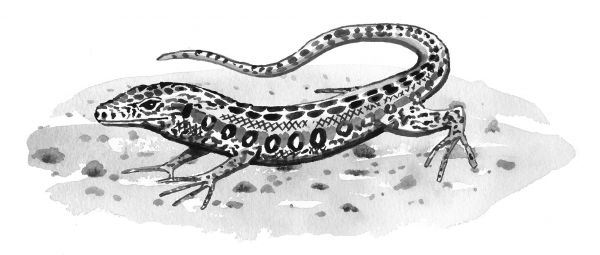 One of the illustrations from the book, a sand lizard
Steve continued: 'The Manx wildlife didn't let me down during a three-day safari in June. I was blessed to watch Risso's dolphins, peregrine falcons, chough and harbour porpoises. I believe most residents can see all these species too, if they follow my guidance and deploy a little patience (you aren't going to spot any dolphins unless you go to the coast, stop and wait, and watch the sea).
'There are significant benefits in appreciating and understanding British wildlife, rather than going 7,000 miles away for Africa's megafauna. By familiarising yourself with the nature around you, you can continually improve your awareness on a daily basis. I am able to recognise local bird song, warning calls and also animal behaviours.
This improves my countryside visits, but also embellishes my daily life. For example, I have an allotment in Douglas and by appreciating the needs of my local birdlife, I've created favourable conditions for them to nest. 
'Remarkably, this year my allotment hedges, shrubs and bird boxes have hosted nesting blackbirds, great tits and robins (although there was one big negative - the robins nested behind my water tank, which meant I couldn't access it for an entire month).
'Finally, there's another great advantage to wildlife watching in the British Isles rather than the Serengeti. You can go for a walk in a British wetland and not get attacked by a crocodile.'
Wild Enthusiasm is published by Merlin Unwin (which is dedicated to publishing high quality countryside and wildlife books). The hardback first edition is available for £20 from Manx Wildlife Trust's gift shop in Peel; Bridge Bookshop in Port Erin and Ramsey, and the Tynwald shop and Waterstones in Douglas.
---
Share this post
---
---
---
0 comment